Orrön Energy is a publicly listed renewable energy company with operational assets and greenfield growth opportunities in the Nordics and Europe.
Orrön Energy is an independent publicly listed (Nasdaq Stockholm: "ORRON") renewable energy company within the entrepreneurial Lundin Group of Companies. Orrön Energy transformed into a renewables Company in July 2022 and has since grown through acquisitions and increased its estimated annual power generation from 300 GWh to 1,100 GWh at the end of 2023.
Orrön Energy's core portfolio consists of high quality and cash generating wind- and hydropower assets in the Nordics and the aim is to continue growing this portfolio through acquisitions and extend asset lifetimes through repowering, life extension and expansion projects. This portfolio will continue to be the core focus for the Company, ensuring a diversified portfolio of power generating assets delivering strong cash flows.
In addition to the Nordic portfolio, the Company has expanded its geographical scope to Europe, initially France, Germany and the UK, with the intention of expanding further into Europe. The Company is also adding new opportunities to increase the power generation capacity, including greenfield projects, and expansion projects with wind, solar and battery storage. The aim is to become a full cycle renewable company with a significant long-term growth pipeline.
Orrön Energy is backed by a major shareholder, management and Board with a proven track record of investing into, leading and growing highly successful businesses. With significant capacity to fund further growth and acquisitions, coupled with an experienced organisation and teams with long-term industry knowledge, Orrön Energy is in a unique position to create shareholder value through the energy transition.
Read more about our financial position here.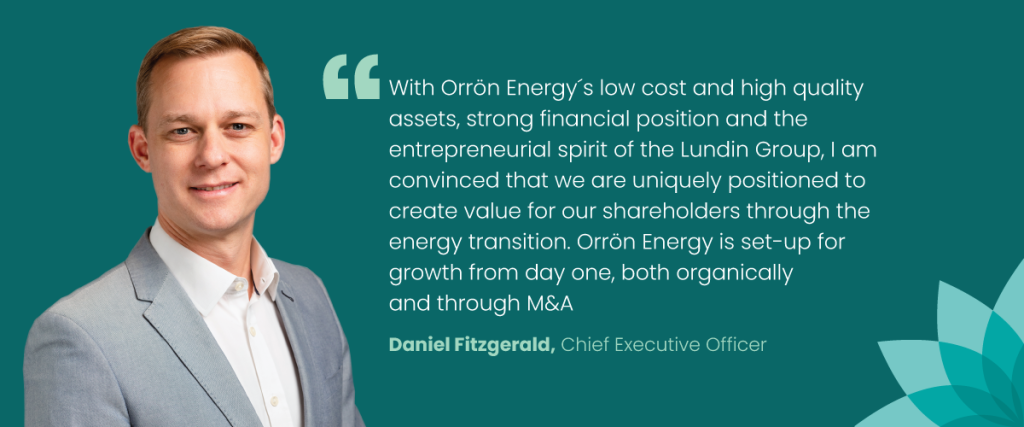 A history of value creation
Orrön Energy was born in 2022, but can trace its roots back to Lundin Energy and its predecessor company Lundin Petroleum, formed in the early 2000s. Over more than 20 years, Lundin Energy delivered on its successful organic growth strategy and created significant value for its shareholders, with a compound annual average return of 28 percent – becoming one of the most admired independent E&P companies with a market leading Decarbonisation Plan. Following this outstanding history of value creation, Lundin Energy's oil and gas business was acquired by Aker BP in 2022, to create the leading exploration and production company for the future.
As part of the transaction with Aker BP, Orrön Energy was created with the renewables assets from Lundin Energy as a base and became the new renewables vehicle within the Lundin Group of Companies. Orrön Energy has retained key members of Lundin Energy's Board and management team, with knowledge of the renewables asset base and a proven track record of building companies which have delivered significant value for shareholders over many years.